well its about time isn't it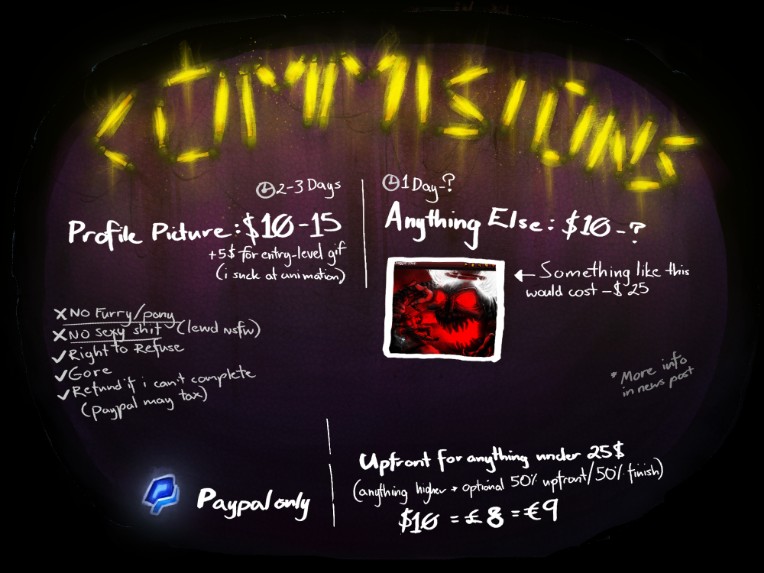 For real, after a long while of not knowing how and when to do it i finally mustered up a scrap of a commission page, here is the extra info as promised on it:
First thing: the main way to contact me fast is through Discord, here is my tag: IWTBTF#0064
*Newgrounds DMs can work too, but it might slow down the process.
I'm also based in the UK, (UTC+1) or GMT, and i stay up late and wake up late, do the math for when you can expect me to be online.
For the "Profile Picture" section: please make sure whatever you're requesting me to do is suitable for a profile picture, by which i mean isn't over-detailed or unrecognizable from a distance, since most platforms that have smaller profile pictures like Discord will lose alot of detail and won't look as good. If you want a GIF logo just throw whatever kind of loop you want at me, and i'll tell you how well I'll be able to do it, (chances are not too well for anything too complex).
For the "Anything Else" section: pretty self-explanatory, I do not sell sketches or pieces with flat colour mainly because I don't have the time or freedom to make half-finished pieces that cannot go onto my portfolio, therefore I will only provide finished pieces for which the price can be discussed in DM's based on various factors.
I have the rights to post the result of any commission on NG (with mention of it being a commission for (you)) unless you specify otherwise.
For any other queries just DM me i guess